…I feel like I'm basking in luxury revisiting photos already uploaded to our online gallery and can take the time to go through them and rework them if needed. One example is the tulips at Filoli Gardens in Woodside, California. I spent about two hours transforming it from the original raw file into a new, well-finished piece of art…it's now in the online store gallery. Find out.
The photo below is from a flight to the SF Peaks just after a snow storm…Snow Bowl is buried in clouds on the right and Humphreys Peak is obscured by clouds on the left…these were conditions fun to fly up there.
More work on photos for the gallery tomorrow…probably for the next few weeks too as it's time to finish picking the best ones and post them to the store. It can only be delayed for so long and it finally catches you!
Finished the article for the June issue of Sedona Monthly today and this one is about Prescott and the beauty of the lakes and parks there. Seems I'm parked on page 30 of every issue now…still aspiring to a central position 🙂
Have a great day…keep breathing and sharing a smile with those you meet and greet today.
Cheers,
Ted
For a few hours here in the still morning I wash
cleanse of civilization, and purge myself of things and
the accumulated waste of time.
I see everything as one, and nothing puts me off, because this new
day rises noiselessly from the valley of night.
Peace rests on the world and on the world of my soul.
excerpts from On A May Morning by Max Ehrmann
###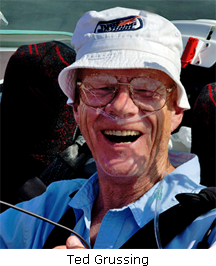 The easiest way to reach Mr. Grussing is by email: [email protected]
In addition to sales of photographs already taken, Ted does special shots for customers upon request and also does air to air photography for those who want photos of their planes in flight. All special photography sessions are billed on an hourly basis.
Ted also runs one-on-one workshops for those who want to learn the techniques he uses. By special arrangement, Ted will run one-on-one aerial photography workshops which will include real photo shoots in the air.
Read more about Ted Grussing…